Sign up for free!
Start using PlayTreks in seconds.
PlayTreks Copyright Control
Instantly register copyrights for your beats, songs, lyrics, instrumentals, riffs and creative ideas.
Quick, easy and affordable
Blockchain-powered
Registration valid forever
Even after you cancel.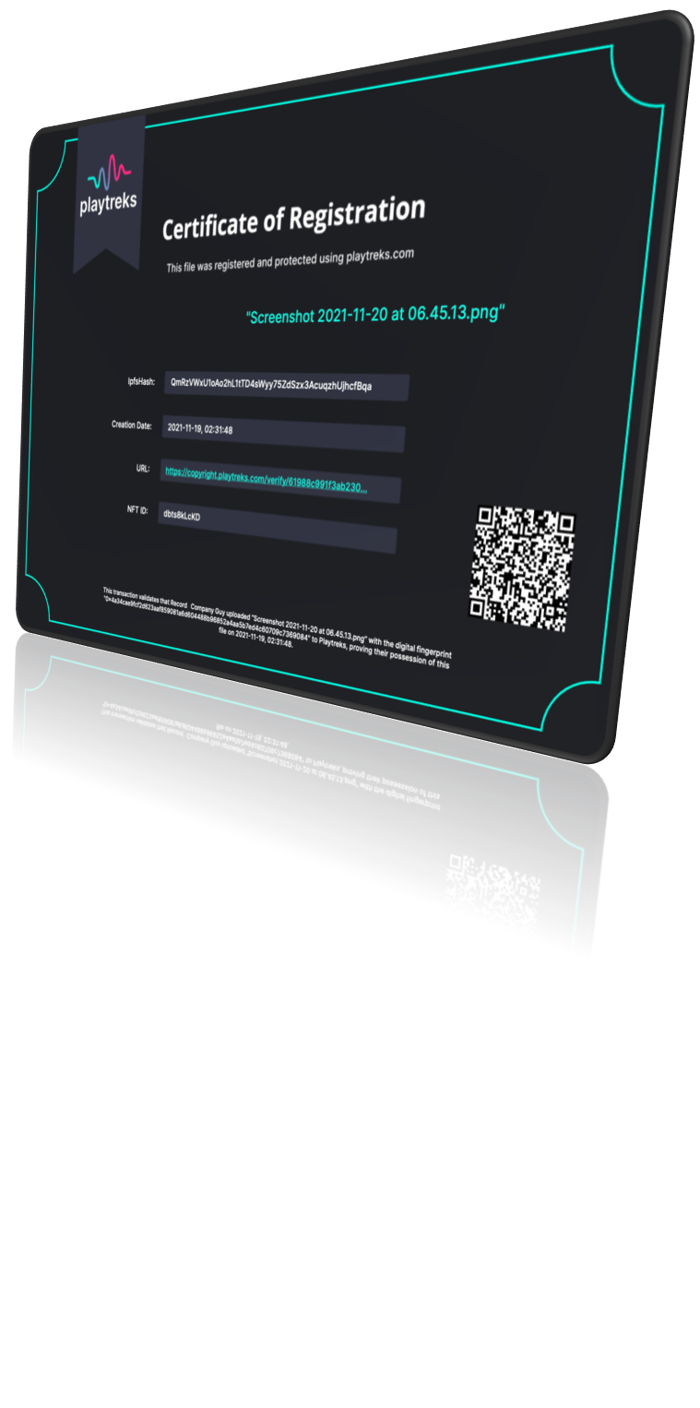 Energized by happy users
Here's what users are saying about PlayTreks Copyright Control.
"Actually, I had no clue how to protect my work, until I read about the copyright control solution by PlayTreks. It's convenient and very easy to use!"

"As an attorney working legal music cases, I know how important it is for my clients to register their work, avoiding a lot of trouble later. I'm very excited to see this solution made available to allcreators."

"PlayTreks is very affordable for me as an indie self-releasing electronic music artist. I use it to protect my music before II distribute it to streaming platforms."
Frequently asked questions
You've got questions about this feature? We've got answers!
Why should I secure my content?

Copyright is an automatic right under international law in 179 countries. However, if your content is used without your permission, you will have to prove that you're the original creator.

How does PlayTreks protect my copyright?

Registering your work and ownership data in the blockchain using PlayTreks, will immediately generate am indisputable digital certificate with a unique Smart Contract number (hash), a unique QR code, and a date stamp. This is credible proof under the Copyright, Designs, and Patents Act.

What types of content can I protect?

You can protect any original artistic, literary, and dramatic work. Music and songs, lyrics, riffs, compositions, recordings (separate stems and/or mastered recordings), TV, film scripts, video, dramatic works, website, app and game content, design and code, product or company logo's, photos, blog content, training and course material, poems and literary works, artistic works, drawings, sculptures, paintings..., and the list goes on.

If I cancel my plan, will my copyright still be protected?

Yes, absolutely. A paid plan will allow you to submit unlimited copyright registrations. These registrations will be valid forever, even if you cancel your plan. As long as you keep your certificates safe, you're good!
Meet the other apps
PlayTreks is the all-in-one workspace to supercharge your music business. Take a look at our other essential tools!
Ready to protect what's yours?
Secure your music business today.