Sign up for free!
Start using PlayTreks in seconds.
PlayTreks Music Distribution
Manage your music catalog, create albums and release effortlessly to all major streaming and social media platforms.
Upload unlimited albums and songs
Split earnings with collaborators
Automate your royalty reporting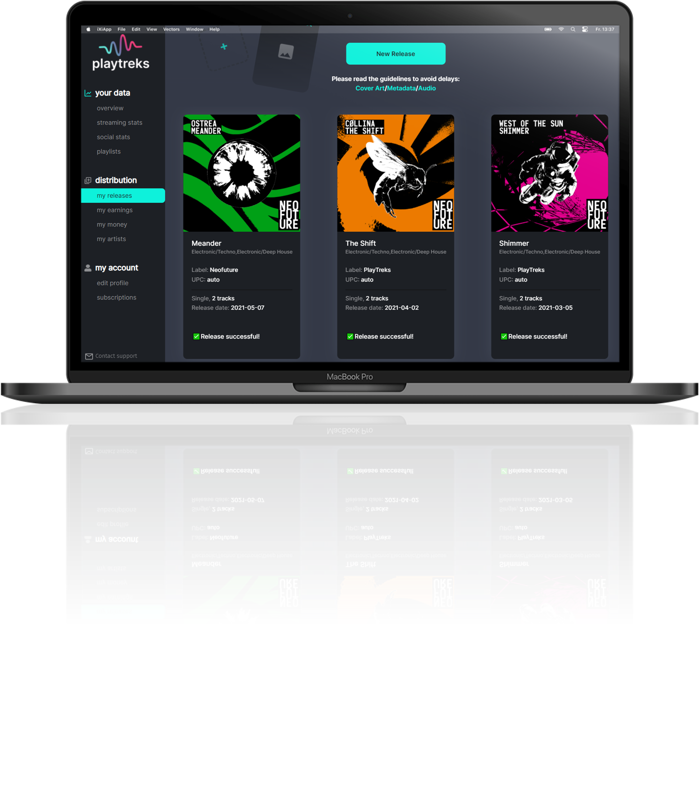 Unlimited worldwide music distribution
The #1 solution for self-releasing artists and labels to monetize music in all major digital stores and on social media.
Get your music playing everywhere
Being connected to 220+ streaming stores and social media platforms, PlayTreks covers all the important digital music stores in the world, including Spotify, Apple Music, Amazon Music, Beatport, Boomplay, Anghami, Tencent, Deezer, Tidal, Facebook, Instagram, TikTok and more.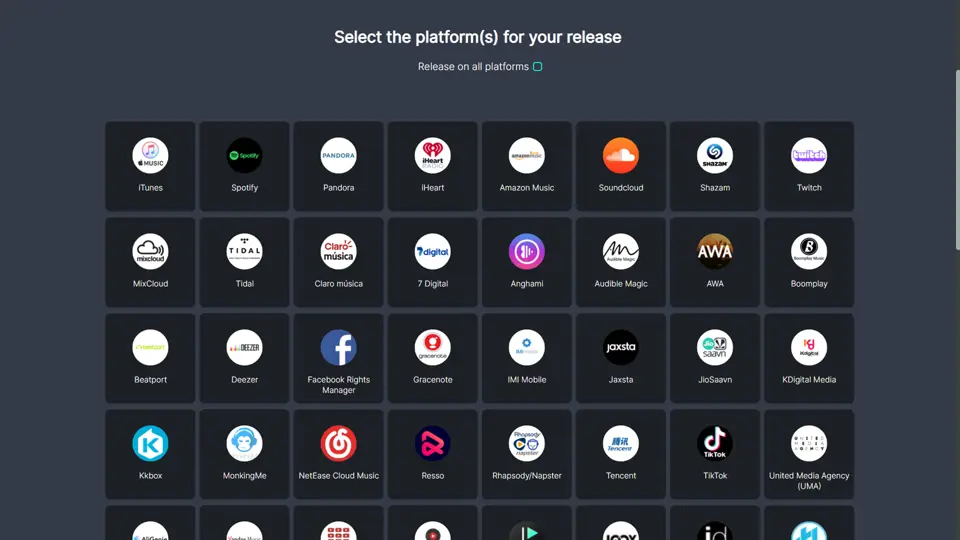 Easy catalog and release management
PlayTreks helps you get your music catalog structured and completed with important metadata. From ISRC, ISWC, UPC or GRid codes, years of creation, contributors and rights-holders, we designed the app to meet the needs of your music business.
Conveniently build and submit your albums and singles and release them worldwide, directly from within the PlayTreks app suite.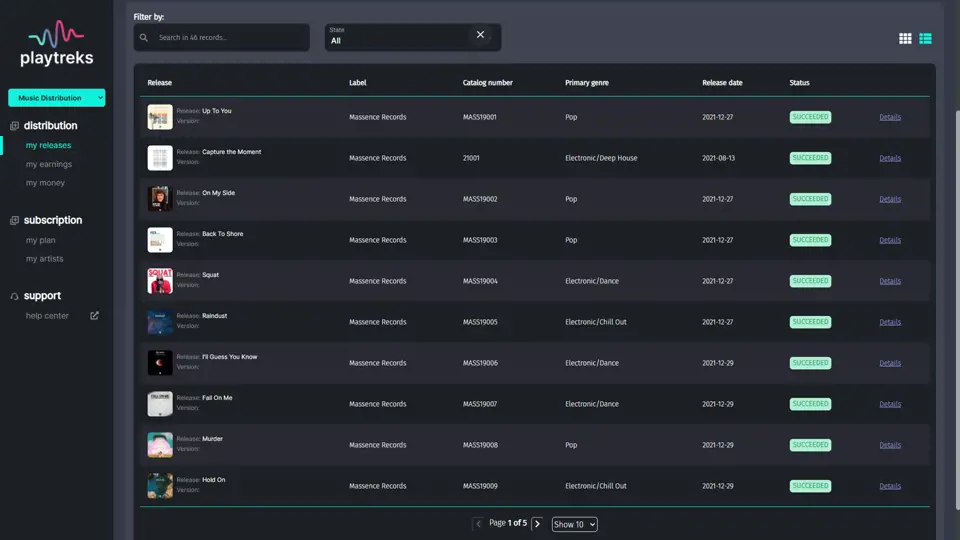 Split royalties with collaborators
Share earnings with ease. PlayTreks can split earnings from any song or album and route it to anyone. You set the percentages, and we will automatically disburse the earnings to all collaborators.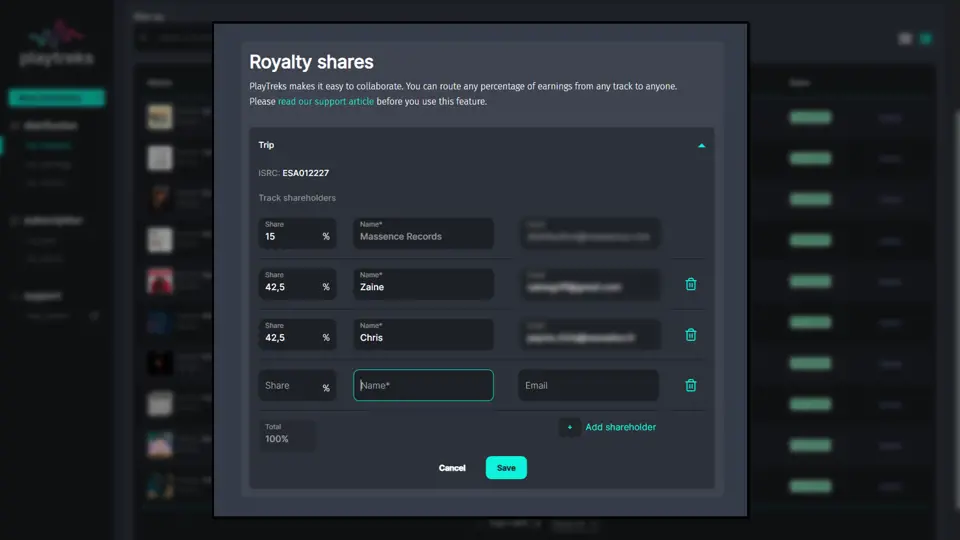 Transparent reporting
Earnings are transparently reported to all rights holders on a monthly basis. Withdraw earnings from your personal account whenever it suits you.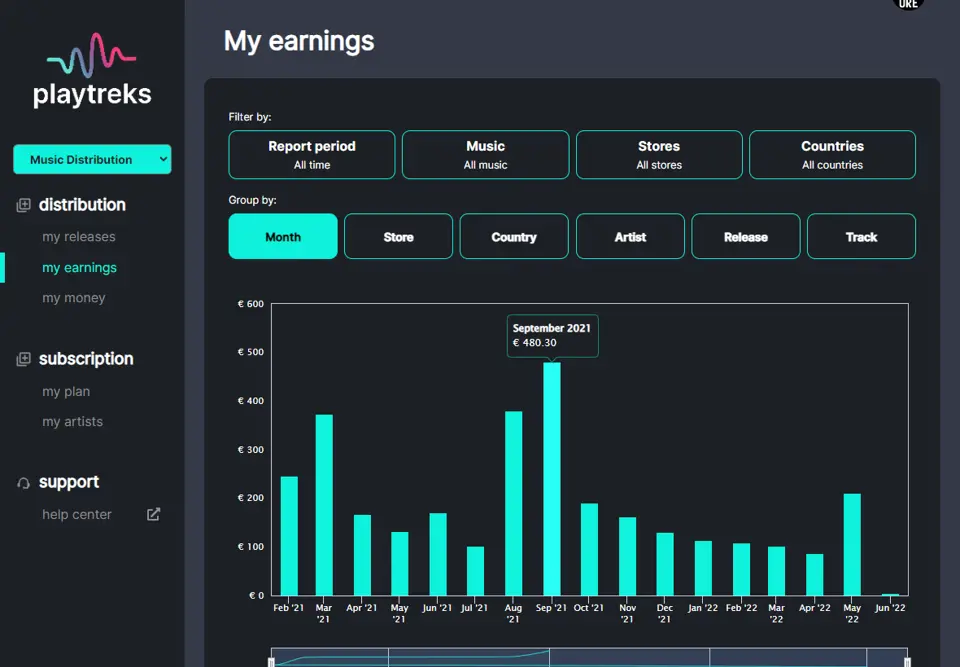 Energized by happy users
Here's what clients are saying about PlayTreks Music Distribution.
"I love how easy it is to split income with anyone else. I'm using this feature to reward radio DJ's that are supporting my work. This administrative feature is actually a great marketing tool."

"PlayTreks is different than other distributors out there. Offering the creation of music NFTs out of the box, they act as a bridge to web3. We took our label's music distribution to PlayTreks and it unlocked new income streams for our artists."

"We are using both PlayTreks Music Distribution and PlayTreks Data Dashboard. These two really make a powerful combination. The data helps us make well-informed decisions on when to release music and where to promote it."
Frequently asked questions
Here's a few commonly asked questions about Music Distribution. Can't find your answer here? More information is avaiable in our music distribution help center.
What stores can I distribute my music to?

Well, we would nearly say "all of them" :-) We are currently connected to 220+ platforms, including 7 Digital, Amazon Music, Anghami, AliGenie, Audible Magic, AWA, Beatport, Boomplay, Claro Música, Deezer, Facebook Rights Manager, Gracenote, iHeart, IMI Mobile, iTunes, Jaxsta, JioSaavn, KDigital Media, Kkbox, MixCloud, MonkingMe, NetEase Cloud Music, Pandora, Resso, Rhapsody/Napster, Soundcloud, Shazam, Spotify, Trackdrip, Tik Tok, Tidal, Tencent, Twitch, Yandex, YouTube Music, YouTube Audio Content ID and Zvooq. And we're continuously adding new platforms, so this list may be outdated before you know it. Just sign up for free to check out the latest available features and platforms!

How long does it take for my release to be available on the streaming platforms?

Your music can be live within a couple of days from your upload, if it passes all quality checks and meets our distribution guidelines.

Can I use samples or vocals I bought or leased, in the music that I upload?

Yes, you can! However, we need you to provide us with a license agreement that guarantees you're allowed to distribute the content digitally. Our Quality Control is thorough, as we want to contribute to a fairer and transparent music industry.

I'm using another distributor. Can I switch to PlayTreks?

Absolutely! You can relocate your entire music catalog to PlayTreks, while keeping all your streams/plays/downloads counts and playlist placements. We will help you transfer your music with uninterrupted availability - your fans and friends will not notice a thing.

What does it cost to use PlayTreks Music Distribution?

PlayTreks makes music distribution available to anyone. Distribute your music for free (without upfront costs) in return for a small percentage of your earnings, or choose one of our premium plans, enjoy advanced features and keep 100% of your earnings. Start for free today, or check out our cost-effective premium plans on the pricing page.
Meet the other apps
PlayTreks is the all-in-one workspace to supercharge your music business. Take a look at our other essential tools!
Ready to upload your next release?
Start supercharging your music business today. Forever free, no creditcard.