Sign up for free!
Start using PlayTreks in seconds.
Create your music NFT with ease.
Make your music available as an NFT and sell it on the fastest growing marketplace in the industry.
Upload your songs
Set your terms
Publish and promote your NFTs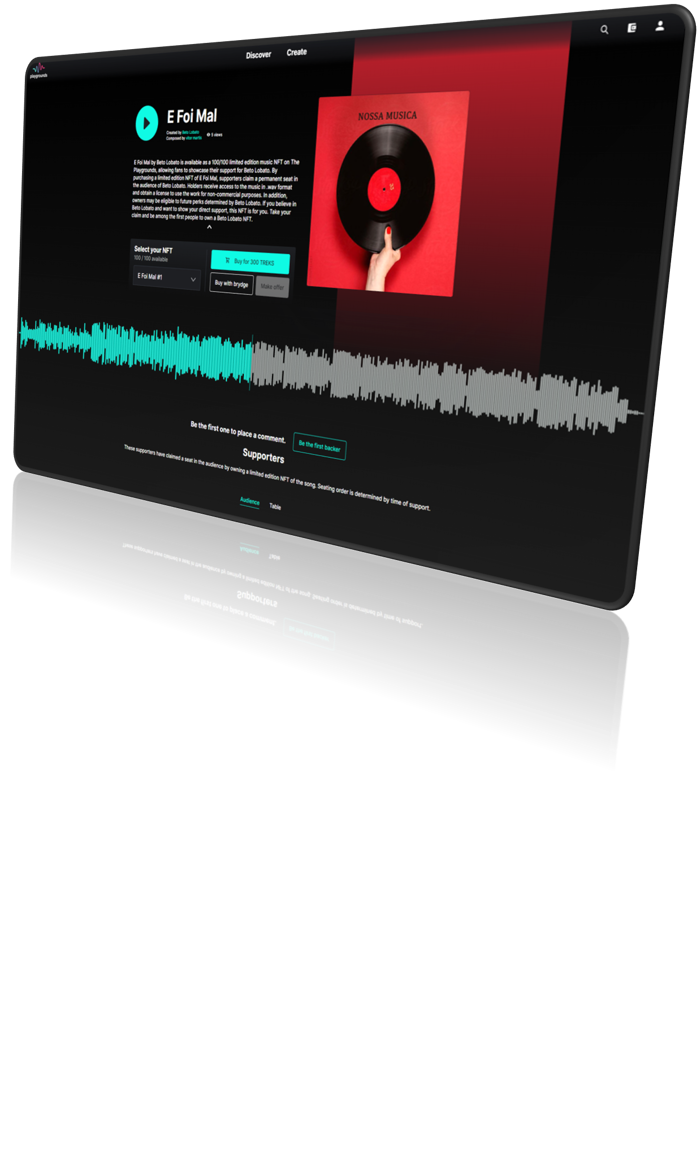 Built for forward-thinking users
Here's what users are saying about the music NFT capabilities of PlayTreks.
"Distributing our label's music through PlayTreks has opened the door to web3 music licensing and micro-licensing. A great way to unlock new income streams for our artists. Our team loves it!"

Rob

Tech nerd at Neofuture Music

"In an overly complex music industry, PlayTreks found a way to make an important aspect very easy. Granting a direct license to whoever wants to use my music really is super easy now."

Michael W.

Self-releasing artist

"We really love how PlayTreks helps us deliver releases, while creating additional licensing opportunities on their NFT marketplace The Playgrounds."

Nelson T.

Record label manager
Frequently asked questions on music NFT creation
What is an NFT?

NFT, short for Non-Fungible Token, is a method to digitally sign original media (like music, art, poems, videos). Virtually, anything and everything you want to sell and people want to buy can be turned into an NFT. some compare it to selling limited autographed copies of their work - but then digitally.

How do artists and labels benefit from creating NFTs?

The most important thing to understand as an artist or label owner, is how the blockchain, and NFTs, solve a problem that has been around in the music industry for decades. Simply put, blockchain is a technology designed to prevent tampering, which makes it the fundament to a new era of transparent, traceable accounting. This eliminates transparency and reliability problems that have been around in the music industry for decades. In addition, blockchain enables the use of cryptocurrencies. This allows anyone in the world to pay for music and support artists they love.

What is The Playgrounds?

PlayTreks helps creators and music rights holders monetize their music in every possible way. Blockchain technology offers great possibilities for this. Our Music NFT Marketplace, The Playgrounds, gives artists and labels the opportunity to connect with their biggest supporters directly, without any middlemen - while fans can build a portfolio of artists then believe in and grow with their success.
A new era of artist-fan connection
Start exploring the possibilities of music NFTs today.